Riding into Bear Country
By Tom Rose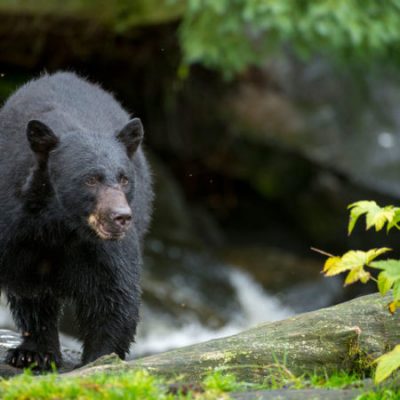 High on the mountain tell me what you see
Bear tracks bear tracks lookin' back at me
Better get your rifle boy before it's too late
Cause the bear's got a little pig and headed through the gate.
He's big around the middle and he's broad across the rump Runnin' ninety miles an hour takin' thirty feet a jump. Ain't never been caught he ain't never been treed
And some folks say he looks a lot like me
From the song Ole Slew-Foot recorded by country singer Porter Wagoner, written by Jay Webb
Tom Rose is a freelance journalist specializing in outdoor, adventure and motor sports stories. His work has appeared in Rider Magazine, Florida Wildlife, Outdoor Adventures, Motorcycle Classics and many other national and regional publications. Tom has been an active member of the Florida Black Bear Scenic Byway for 4 years and a regular contributor to the Byway Facebook page.
Exploring the Byway
By Chris Kincaid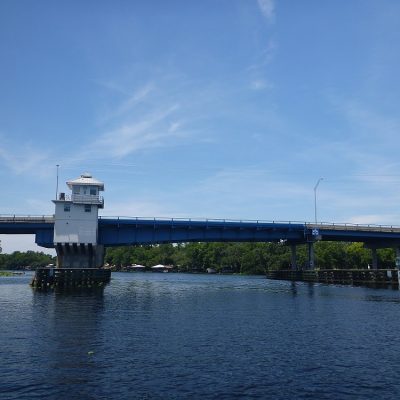 I am frequently asked, "What is there to do around here?"… While Florida often brings visions of white beaches and blue ocean water, central Florida offers vast forest lands, and extensive freshwater rivers, lakes and wetland areas. It's difficult to pick a favorite, but here are a few suggestions:
The little town of Astor is located north of Orlando, between Silver Springs and Daytona Beach along Highway 40 on the St Johns River and Lake George. I consider it to be the gateway to many of the "Wild & Woolly" locations along the St. Johns River. There are plenty of campsites, RV parks and rental cabins available. From a short overnighter to a "winter snowbird safari", there are plenty of options for everyone. If you own a boat you can quickly find yourself in the middle of nowhere.
Chris was born in Tennessee, and spent most of his childhood in Arkansas. Chris now works as the Recreation Coordinator for the Florida Forest Service's Bunnell District. He is an outdoor educator, wild-land firefighter, avid sportsman, and accomplished nature photographer. Chris leads guided nature photography classes, and provides programs to various conservation organizations.
Tracking a Black Bear
By Cathy Connolly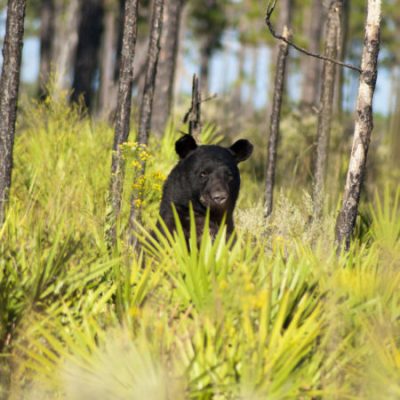 Where are you most likely to see a Black Bear in Florida? The Florida Black Bear Scenic Byway runs right through the middle of the Ocala National Forest. The Ocala National Forest is home to more bears than any other area in the state of Florida. The Forest has approximately 1200 bears living in and around it. I have been fortunate with my job to encounter a great number of bears over the years. There is no reason why you shouldn't be able to find where the bears are.
Many of the Forest roads cut off of SR19 and SR40. They are dirt roads and are easy to access. The roads are identifiable by a brown sign with numbers. The best times to travel these roads are very early in the morning and just before dark. The bears are most active during these times. However, in the fall when they are eating constantly to store up for the cooler days ahead, you can spot them at all times of the day and night.
Cathy Speidel Connolly works for the Florida Fish and Wildlife Conservation Commission in the Bear Management Program. Cathy also act as Secretary for the Florida Black Bear Scenic Byway CME, and is a longtime member and volunteer for Defenders of Wildlife. Cathy loves wildlife photography and one of her photographs appeared in the Florida Wildlife Magazine. Her Florida Alligator photo appears in the large FBBSB brochure.
Touring the St. Johns River
By Captain Ernie Brundage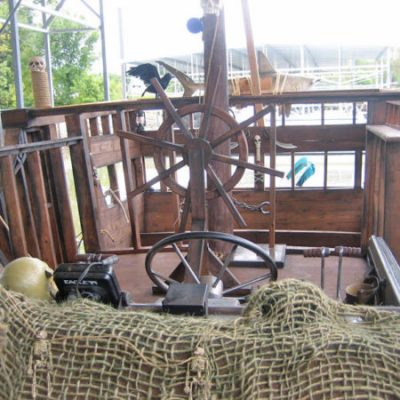 As a resident and river tour operator on the Black Bear Scenic Byway, it would only go without saying that I think the St. Johns River is the jewel of the area. Steeped in Florida's history, the river played an important role in the early development of Florida, and was the home to a large community of pre- Columbian Indians.
I always reflect on the history when the early European settlers came to the Astor area, predating the pilgrims, and what it must have been like in the mid 1500's living in an untamed wilderness like the St. Johns. I can only imagine the early French and Spanish settlers meeting up with the Timucua and learning the region from them and their culture. Next there were the American settlers forging their lives out of a real hostile area, with yellow fever, the Seminoles and isolation. Then the steamboats arrived bringing them goods and winter visitors which must made them feel closer to the civilized world.
These thoughts are always the opening of my narration on my tours.
St. Johns River Tours, Inc. "Ole Florida Eco and History Adventures" Departing From the docks at Blackwater Inn and Williams Landing. 55716 Front St. Astor, FL 32102. Reservations 1-866-349-0674
Barberville Pioneer Settlement for the Creative Arts
by Tony & Beth Erlich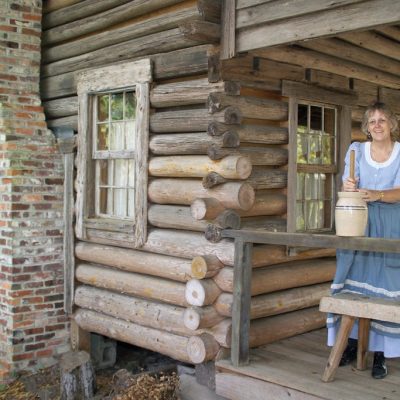 This facility, known to locals as "The Settlement," is one of our favorite spots along the extraordinary Florida Black Bear Scenic Byway. The Settlement embodies recreation and history, two of the seven intrinsic resources which every Florida scenic byway must have. Shortly after moving to Florida in the 80's, we attended a festival there and fell in love with the place, became members and volunteers, and have enjoyed many good times since then.
The creative arts part of the formal name refers to the old-timely crafts taught and exhibited there, including blacksmith, model railroading, wheelwright, potting, quilting, weaving, candle making, rushing and caning chairs, and many others. When there's not a formal class for these disciplines, there is often a group of folks practicing the craft. They offer many programs for kids and adults as part of their educational mission and school children arrive in buses to learn about the old fashioned way of living.
Beth & Tony have been members of the volunteer group that manages the Florida Black Bear Scenic Byway for six years. They helped in the drafting of the FBBSB Corridor Management Plan, which led to the state designation of the Byway as a Florida Scenic Byway 2008. They also helped with the application that led to the federal designation as a National Scenic Byway in 2009.
Kayaking the Waterways
by Kristee Booth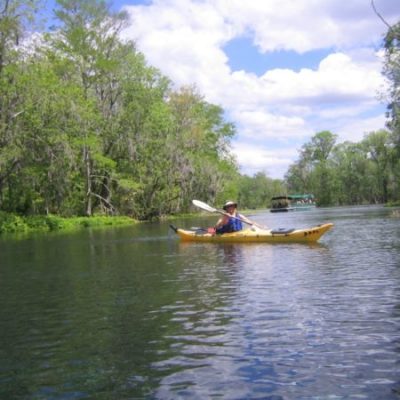 Here are a few memories and pointers from my experience kayaking the Florida Black Bear Scenic Byway: Juniper Springs: a great spring head w/ the ONF amenities, the historic spring pump house, so beautiful to sunbathe or swim here. There's a long boardwalk to traverse to put in the kayak/canoe. I do love this challenging and beautiful run. It has a variety of narrow winding passages and wider ones with sandbars and high banks as well. There is little downed tree removal so it is more challenging in a canoe to twist and turn around these potential natural obstacles. I've seen deer and alligator along the way- that is when the arguing couples aren't too loud to scare them off. This trip can challenge a couple's patience and relationship – be warned!
It isn't rocket science to navigate this run, which is not recommended for beginners, but it takes patience and awareness, because what is great about this run…
Kristee Booth has an undergraduate degree in Biology from WVU; MS degree in Ecology from FIT. She has been actively involved with the byway since its inception, and is a current CME member. Kristee feels Florida and the FBBSB has as much beauty, history and adventure to offer as anywhere in the world.
Hidden Gem: The Fort Gates Ferry
by Tom Rose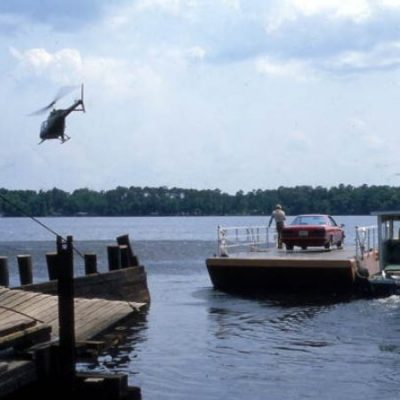 There are so many great options for exploration of the Florida Black Bear Scenic Byway that it is difficult to zero in on just one. However, a favorite stands out. That would be just about any Byway motorcycle ride that includes a crossing of the St. Johns River on the historic Ft. Gates Ferry. The Ft. Gates Ferry began operating almost 200 years ago to facilitate the river crossings of U.S. Army troops during the Seminole War. Originally the ferry operated manually by a cable/winch system. It evolved over the years to the present operation which was set up in 1946, consisting of a barge capable of transporting 2 cars, up to 20 motorcycles and numerous bicycle and foot passengers. The power comes from a small tug boat (converted sail boat) powered by an Isuzu Diesel engine. It is Florida's oldest continuously operated ferry. It is also the only privately owned and operated ferry in the Florida transportation system.
A good route is to approach the ferry from SR 19 at Salt Springs. It is 7 miles of dirt and gravel on Forest Roads 62 & 29 to the west side ferry landing.
Tom Rose is a freelance journalist specializing in outdoor, adventure and motor sports stories. His work has appeared in Rider Magazine, Florida Wildlife, Outdoor Adventures, Motorcycle Classics and many other national and regional publications. Tom has been an active member of the Florida Black Bear Scenic Byway for 4 years and a regular contributor to the Byway Newsletter. http://tomrosejournalist.blogspot.com/
The Smell of Hot Sand
by Rick Tonyan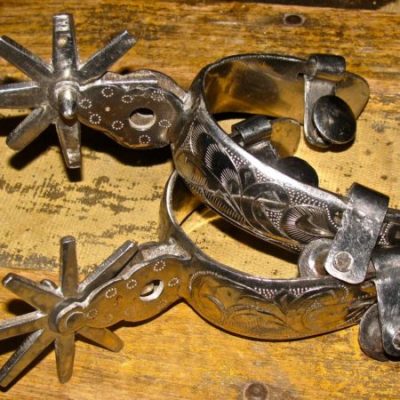 What does hot sand smell like? It's a sweet, somewhat musky, odor that radiates off sand after its baked in 90-degree-plus heat for a few days. It's hard to describe, but I know it when I smell it. To me, it smells like home.
I've spent most of my life in the sands of rural Florida. Even when I visited my maternal grandmother who lived in a town, her house was off a sand street, so the smell stayed in my nostrils during the summer.
Maybe most people aren't sensitive to that smell. But it kicks off a wave of nostalgia in me. It's like a lot of folks who start thinking of childhood Thanksgiving dinners when they smell turkey in an oven. Hot sand brings to my mind horseback riding, ball playing, livestock tending and sundry other activities in the heat.
After spending most of my life in the Florida scrub, my senses respond differently than those of most people.