Americas experience with cherished landscapes and wildlife has defined, and shaped America's national character and identity for generations.
Florida Black Bear Scenic Byway a grass roots, volunteer community based organization has helped to preserve this cherished byway with wildflower growth, wildlife underpasses, educating future generations/visitors through our kiosk program and countless hours at events such as Florida Wildlife Festival.
Your generous donations will be used for events, education of byway visitors through our volunteer kiosk program and to keep this website running. The sky is the limit with what we hope to accomplish and we would like your help to get Florida Black Bear Scenic Byway there.
Please consider being a sponsor.
Thank you in Advance.
Gopher
Bob Cat
White Tail Deer
Panther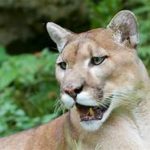 Friends Benefits
Membership Acknowledgement, listed as a friend on our website and annual meetings.
Scrub Jay/Foundling
Bald Eagle/Corporate
Black Bear/Benefactor
Sponsor Benefits
Enjoy all the member benefits plus, Website business card ad link, Logo on all public meeting boards, and member plaque.