Kayaking on the Waterways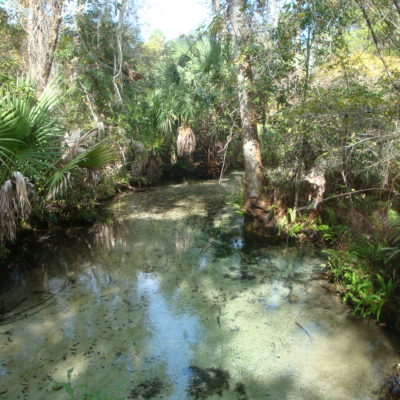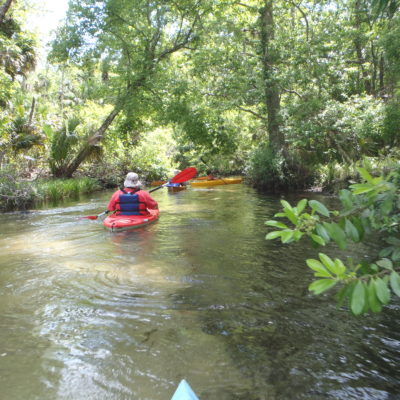 Here are a few memories and pointers from my experience kayaking the Florida Black Bear Scenic Byway:
Juniper Springs: a great spring head w/ the ONF amenities, the historic spring pump house, so beautiful to sunbathe or swim here. There's a long boardwalk to traverse to put in the kayak/canoe. I do love this challenging and beautiful run. It has a variety of narrow winding passages and wider ones with sandbars and high banks as well. There is little downed tree removal so it is more challenging in a canoe to twist and turn around these potential natural obstacles. I've seen deer and alligator along the way- that is when the arguing couples aren't too loud to scare them off. This trip can challenge a couple's patience and relationship – be warned!
It isn't rocket science to navigate this run, which is not recommended for beginners, but it takes patience and awareness, because what is great about this run is also what makes it challenging: it has an amazingly beautiful canopy of trees winding down at you – but if you are not paying attention – you WILL get clocked in the head, as well as stuck on trees underwater if you are not looking all around the "obstacle course" of Juniper Springs Run.Alexander Springs: is always a good run as it is always pretty, and it is less complex than Juniper. A better choice for little ones, perhaps.
All of these springs are great spot for bird and nature watching: I have seen gators, herons, cormorants out drying their wings, deer, osprey, hawks, and gators. A friendly dragonfly hitched a ride with me a while on one trip. Turtles haul themselves out onto downed trees to sun themselves. Cormorants are out on limbs drying their wingspan with the usual drama, and otters pop their heads up. The diversity of birds is truly endless in this neck of the woods.
Silver River-Ocklawaha Run: Starting in the Silver River State Park- they can be accommodating if one needs assistance as there is a looooong dirt path to hike to the put in spot for kayaks. The Park has a great, very informative Museum that is a "must see" stop. For the energetic paddler you can paddle up to the springs attraction and won't be disappointed. You can see manatees, all kinds of fish species, a variety of birds and possibly some raccoons as well as some of the movie props used on location at Silver Springs. The Silver Springs Rive run is stunning; lined with large trees, clear water you can see through and some narrow passages to add spice to the trip. There is a possibility to see rhesus monkeys which, contrary to popular rumor, aren't escapees from the Tarzan movie, but were intentionally released some years ago to attract tourists.