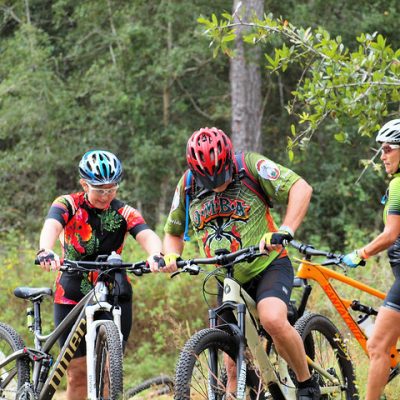 Florida National Scenic Byway State Road 40, the back bone to the byway, and the Ocala National Forest, world's largest contiguous pine scrub forest. A sand ridge 24 million years ago ran along the back bone of this byway before the sea retreated.
Home to 4 major springs, one of which is a trail head for the paisley mountain bike trail Alexander Springs. Twenty two miles of pure back woods exploration a roller coaster ride through sand hills topped with stately long leaf pines.
Florida Black Bear Scenic Byway, Ocala Mountain Bike Association and the USDA Forest Service, working together to revise the paisley trail making it a major destination for mountain bikers in the Ocala National Forest.
Just one way Florida Black Bear National Scenic Byway is partnering with the community, to enhance the many rich features of this byway.
The Florida Black Bear byway organization has developed an interpretative kiosk program designed to educate, inform and help increase awareness of the resources that we as a community are most proud of. Our interpretative kiosk program has been designed to present themes that enable the public to understand more clearly the interaction of nature and people. Through donors like yourself, we have designed and installed 15 kiosks to date around the byway. All with a consistent design but different themes based on location. These kiosks educate and make driving the byway more memorable. Each has been individually constructed by our team of byway volunteers.