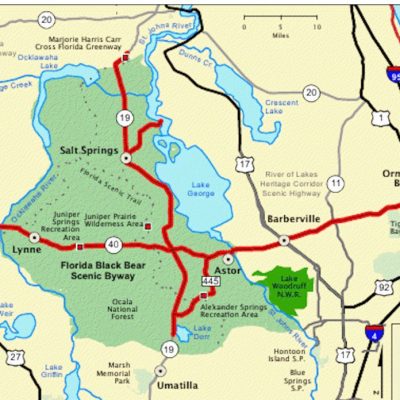 Corridor Story
The Florida Black Bear Scenic Byway provides access to a mosaic of natural lands from Silver Springs to Ormond Beach, traversing one of Florida's most intrinsic ecosystems known as the "Big Scrub." SR 40 serves as the backbone for this corridor with a network of scenic roads and interpretive trails crossing eastern Marion County and parts of Lake, Putnam and Volusia Counties. It is a 60 mile corridor with 56 miles of loop and spur roads; all are protected by private and public lands, the Ocala National Forest, Lake George State Forest, Heart Island Conservation Area and Tiger Bay State Forest. Commonly spotted along the corridor is the Florida black bear, a threatened species and a fitting namesake for this exceptional scenic byway.
Master Plan Study
The FBBSB Master Plan Study was developed from May 2011 – June 2012. The document includes recommendations and plans that will be the foundation for developing the byway over the next 10 years all designed to make the byway more accessible and interesting to travelers.
The project was funded by a scenic byway grant. The document contains a variety of chapter and project information.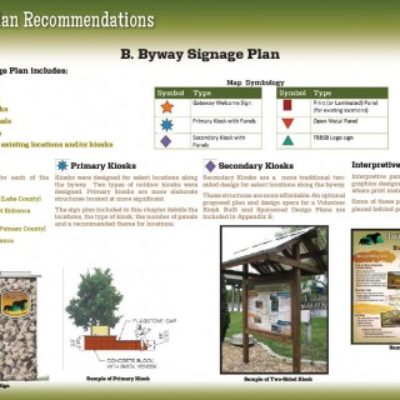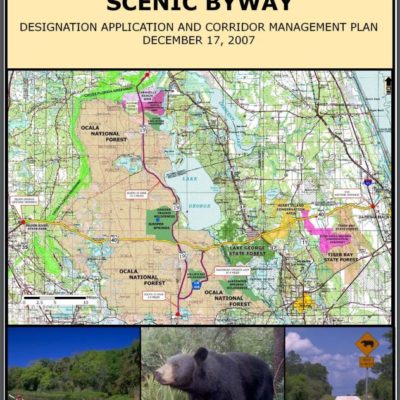 Corridor Management Plan
The Florida Black Bear Scenic Byway Project grew from a recommendation of the State Road 40 (SR 40) Collaborative Task Force. The Task Force was formed in 2003 in order to determine the feasibility of roadway improvements to SR 40, with consideration of the unique environmental resources within the corridor. On February 2, 2006, the SR 40 Corridor Concept Plan and Guiding Principles was released by the Task Force. There are nine guiding principles included within the Concept Plan. The first of these principles calls for the designation of SR 40 between Ormond Beach and Silver Springs as a Florida and National Scenic Byway. The last principle calls for the inclusion of the principles themselves into the Scenic Highway's goals, objectives and strategies.