I am frequently asked, "What is there to do around here?"… While Florida often brings visions of white beaches and blue ocean water, central Florida offers vast forest lands, and extensive freshwater rivers, lakes and wetland areas. It's difficult to pick a favorite, but here are a few suggestions:
The little town of Astor is located north of Orlando, between Silver Springs and Daytona Beach along Highway 40 on the St Johns River and Lake George. I consider it to be the gateway to many of the "Wild & Woolly" locations along the St. Johns River. There are plenty of campsites, RV parks and rental cabins available. From a short overnighter to a "winter snowbird safari", there are plenty of options for everyone. If you own a boat you can quickly find yourself in the middle of nowhere.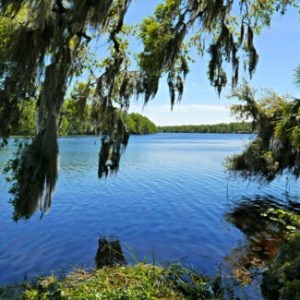 In the spring, expect to see and hear alligators as they prepare for mating season. You will also hear the distinctive cry of the Limpkin (Aramus guarauna), a spectacular wading bird exclusive to Florida, Mexico, and Central and South America. Find them along shore feeding on mussels and apple snails. As summer approaches, keep an eye towards the sky and you will see Swallow tailed kites (Elanoides forficatus), as they migrate from Brazil to the second largest nesting area in Florida, located within the boundaries of Lake Woodruff National Wildlife Refuge.
Manatees are a common spring and summer site along the river. You may even see them feeding on aquatic vegetation along the shore or hear them as they come to the surface to breath. Look for large circular boils on the water in the creeks and near mats of shoreline vegetation.If you want to get out into the forest, one of my favorite local hikes is located 12 miles west of Astor in the Ocala National Forest at Juniper Springs Recreation Area. The boardwalk hike is ADA accessible and is suitable for all ages.
This easy 0.8 mile trail (round trip) offers amazing views of the beginnings of Juniper Creek and ends at spectacular Fern Hammock Springs. There are many smaller springs that boil up through its sandy bottom along the way. After your leisurely hike, take a dip in the 72° year round waters. It is a paradise in any season. Rent a canoe to float 7 miles to the Highway 19 takeout and Juniper Springs staff will pick you up and bring you back. This journey will carry you through the Juniper Springs Wilderness area, where few dare travel. It is a beautiful, primeval place. Keep an eye out for alligators, bear, deer, and endless birding opportunities. Located approximately 30 miles from Ocala and 40 miles from Ormond Beach, this gem is an excellent getaway for the day or for a long weekend!