The Barberville Pioneer Settlement for the Creative Arts
This facility, known to locals as "The Settlement," is one of our favorite spots along the extraordinary Florida Black Bear Scenic Byway. The Settlement embodies recreation and history, two of the seven intrinsic resources which every Florida scenic byway must have. Shortly after moving to Florida in the 80's, we attended a festival there and fell in love with the place, became members and volunteers, and have enjoyed many good times since then.
The creative arts part of the formal name refers to the old-timey crafts taught and exhibited there, including blacksmithing, model railroading, wheelwrighting, potting, quilting, weaving, candle making, rushing and caning chairs, and many others.
When there's not a formal class for these disciplines, there is often a group of folks practicing the craft. They offer many programs for kids and adults as part of their educational mission and school children arrive in buses to learn about the old fashioned way of living.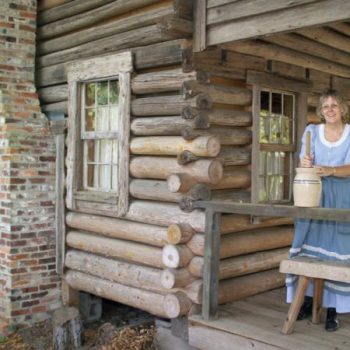 However, what initially attracted us that November weekend in 1984 was the annual Fall Country Jamboree, with its country cooking made by volunteers in the Summer Kitchen, delicious sweet corn, and the folk music performed by groups from throughout Florida. There were Native Americans in their Timucuan Village, cracker cowboys, sugarcane grinders, and, of course, clogging. We couldn't take it all in, but we were hooked!The Jamboree is the biggest and grandest of several festivals staged at The Settlement. There is also a smaller but similar Spring Fling each April, an Old Fashioned Christmas Remembered in December, and various other gatherings — good food, good music, and happy people at each one. We've volunteered at the gates for years and marvel to see that everyone leaving is smiling. Yes, everyone, and we're smiling as we wave goodbye and holler, "See you next year!"There are 22 historic buildings on The Settlement's 30-acre campus. The old Central Schoolhouse was the main educational facility in West Volusia for decades starting in 1918, until the growing local population called for more modern and less centralized schools. The Underhill House, currently under restoration, is the oldest brick structure in Volusia County, built around 1879 from bricks made from clay dug along nearby Deep Creek. The train depot was moved there from Pearson, the United Methodist Church from Midway, the post office from Huntington, Wynn's Country Store from Georgia, the Astor Bridge House from across the St. Johns River, and many other buildings from locations throughout Florida.In addition to scheduled activities, The Settlement is open for tours Monday through Saturdays from 9 a.m. to 4 p.m. It's located at 1776 Lightfoot Lane, Barberville, Florida.